Salford house fire 'caused walls to crumble' firefighter recalls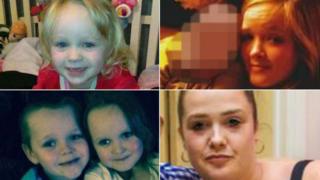 A firefighter has described how a house fire in which four children died became so intense it caused the property's walls to crumble.
Janine Chadwick told a jury she tried to rescue the siblings, aged between three and 15, after the house in Walkden, Salford, was attacked with petrol bombs on 11 December.
Three people are on trial at Manchester Crown Court accused of murder.
Ms Chadwick said: "We knew it was a bad fire when we arrived."
Demi Pearson, 15, her brother, Brandon, aged eight, and sisters, Lacie, seven, and Lia, three, all died in the fire.
Their mother Michelle Pearson survived but was left badly injured.
The court previously heard how Zak Bolland, 23, launched the attack after being involved in a feud with the victims' 16-year-old brother Kyle Pearson.
Mr Bolland, Courtney Brierley, 20, and David Worrall, 25, all deny four counts of murder.
Ms Chadwick, of Greater Manchester Fire and Rescue Service, said the walls beside the stairs had crumbled and the steps had become a rubble-strewn "slide", forcing her to crawl on her hands and knees to search for survivors.
"Obviously the heat, it was really hot, we had to battle against the heat to enter the building," she said.
On reaching the landing rescuers split up, the court heard.
Mrs Pearson, who had been asleep with Lia in a cot beside her in a back bedroom, was found first and brought out but the children were still inside.
Ms Chadwick found Brandon lying face down in the main front bedroom as if he was trying to crawl out of the room with Lacie behind him, she told the court.
"Immediately I went into the room I started finding the children," she said.
Demi was on a bed with her hands stretched towards a partly open window, the jury heard.
It was apparent Demi was already dead but Ms Chadwick said they had to get her out, telling the court: "We had to give her that chance."
Lia was found by firefighter Mark Barry who carried her outside.
They were both laid out on the road as a team of 15 paramedics tried to save them.
Kyle Pearson, 16, and his friend Bobby Harris, 17, escaped the blaze by jumping from a window.
Mr Bolland, of Blackleach Drive, Walkden, has admitted reckless arson, a charge his girlfriend Ms Brierley, of Worsley Avenue, Walkden, and Mr Worrall, of no fixed address, both deny.
All three also deny three counts of attempted murder relating to Michelle Pearson, Kyle Pearson and Bobby Harris.
The trial has now been adjourned until Tuesday.