Cheshire East Council bosses probed over 'whistleblower' job loss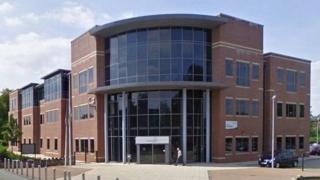 Two suspended council bosses are being investigated over the way a "whistleblower" lost her job after warning that dozens of care staff had been paid less than the minimum wage.
HR officer Sue Wallace said she was sacked by telephone days after raising concerns.
The investigation is one of five being carried out into two senior Cheshire East Council officials.
The council said suspensions were "a neutral act".
A string of separate allegations against chief executive Mike Suarez and chief operating officer Peter Bates are being examined by the Investigation and Disciplinary Committee, but the council has not commented on the nature of any of the investigations.
Mr Suarez was suspended in April 2017 while Mr Bates' suspension followed in December.
'Legally privileged'
The committee began investigating the way Ms Wallace lost her job in February after council legal officer Dan Dickinson produced a report which included legal advice about whether Ms Wallace should have been granted official legal protection as a whistleblower.
Ms Wallace is also taking the council to an employment tribunal where she is claiming she unfairly lost her job.
In a statement to a tribunal hearing last month, Mr Dickinson refused to reveal the legal advice he had passed to the committee on the issue, arguing the information was "legally professionally privileged" and therefore needed to be kept private.
Ms Wallace lost her job in December 2016, five days after she met a manager to discuss her concerns that dozens of care staff on so-called sleep-in shifts had been earning less than the minimum wage.
In addition to the probe into the loss of Ms Wallace's job, the BBC understands the committee is also looking at the way the council awarded some contracts.
A separate police investigation has been investigating the contracts matter since December 2015.
Former chief legal officer Bill Norman was also suspended but he resigned last December.
Ms Wallace's tribunal has been adjourned until July.