Joseph Woodall: Salford honours WW1 hero soldier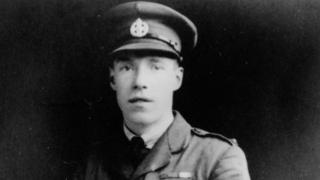 A British soldier who single-handedly captured a German machine gun and eight prisoners during World War One will be celebrated later.
Salford-born Joseph Woodall is to be honoured with a paving stone as part of the First World War Centenary campaign to honour Victoria Cross (VC) winners.
The stone will be laid in Salford 100 years after his acts of heroism.
The initiative began in 2014 with more than 460 stones being laid in communities across Britain.
'Coolness and courage'
Lance Serjeant Woodall, was serving with the 1st Battalion The Rifle Brigade on 22 April 1918 when his platoon was held up by a machine gun on the La Bassée Canal, France.
He rushed forward and single-handedly, captured the gun and took eight men prisoner.
He then collected 10 men and attacked a nearby farmhouse where the platoon had come under heavy fire, there he captured another 30 men.
Shortly afterwards, he took entire command of two platoons when their commanding officer was killed,
He was awarded the VC for "most conspicuous bravery and fine leadership during an attack" with the army saying the success of the operation was entirely due to his "coolness, courage and utter disregard for his own personal safety."
He was invested with his Victoria Cross by King George V at Buckingham Palace on 23 November 1918. He remained in the army after the war eventually reaching the rank of captain.
Four generations of Joseph Woodall's family will be attending the ceremony in Regent Square Park. including, his grandson Michael Mahoney who has travelled 12,000 miles from Australia for the event.
Another Salford VC Joseph Lister VC, from Broughton, who was awarded the medal in 1917, was commemorated in October with a paving stone outside Broughton Hub.