Rochdale Council: Leader recorded saying he 'might' withhold funds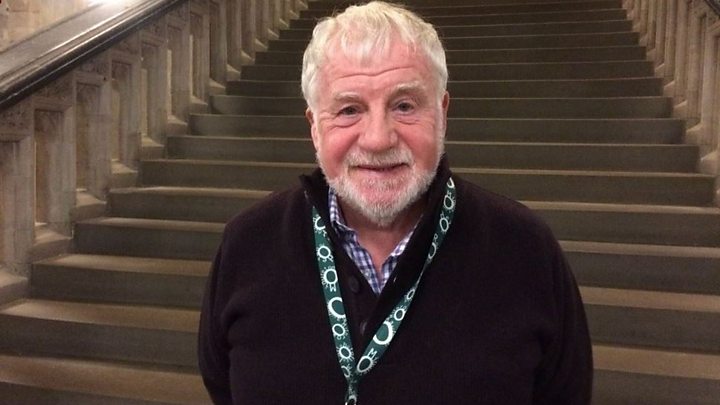 A council leader has been recorded saying he might withhold road repair funds in wards where his party performs badly in the upcoming local elections.
The BBC has obtained audio of Rochdale's Allen Brett secretly recorded at a Labour group meeting.
In the recording, he said if the party was "not successful" in certain wards he might "not spend any money" there.
Mr Brett said the recording was a "breach of trust" and the remarks were "not meant to be... taken seriously".
He was discussing a £12m budget for roads and pavements, which is to be split between the borough's four townships - Heywood, Middleton, Pennines and Rochdale.
In the two minute recording, he said he had been given a list of where money was likely to be spent but was not releasing it.
"I'll deny I've said this and I'm very reluctant to say it even in this room," he said.
"If we don't do [sic] successful in one ward, I might not spend any money in that ward and you can work that out but I'll deny I've said it."
'Breach of trust'
It was made at a general Labour group meeting including councillors, prospective candidates and party members.
In a statement, Mr Brett, who is a councillor for Milkstone and Deeplish, said it was "disappointing" that his "off the cuff" remarks at a private meeting were recorded.
He added they were "not meant to be threatening or taken seriously".
"I intend to act upon what I see as a blatant breach of trust and confidentiality," he said.
"Group members need to feel they are able to discuss any issues with fellow party members without fear of being recorded illicitly."
A Labour Party spokesperson said: "The Labour Party demands high standards of its elected representatives and the comments expressed here fall short of those standards."
Andy Kelly, the leader of the Liberal Democrats on Rochdale Council, called for Mr Brett to resign.
He said Mr Brett had breached the council's code of conduct for councillors and has made a complaint to chief executive ​​​​​​Steve Rumbelow.
Mr Brett was appointed leader in December following the resignation of Richard Farnell.