Oldham tram stop attack: Third boy held over attempted murder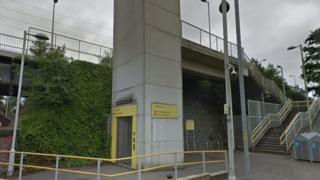 A third boy has been arrested on suspicion of attempted murder over a "sustained" attack on a man at a tram stop.
A 49-year-old was knocked out after being set upon at the Freehold stop in Chadderton, Oldham, on 8 March, police said.
The 15-year-old is the third held on suspicion of attempted murder. Two other boys were arrested on Saturday.
Another 15-year-old boy is being held on suspicion of assisting an offender.
Greater Manchester Police said officers had been granted a 30-hour extension to hold the boys for further questioning.
CCTV footage released by police showed the man trying to leave the platform after getting off the tram at 21:36 GMT when passengers from the same tram began hitting him.
The attack continued until the driver of a tram travelling in the opposite direction intervened.
Police said the man was still receiving treatment for his injuries in hospital.