Darren McKie trial jury must consider 'terrible mistake'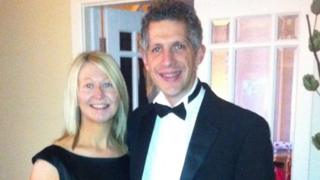 Jurors in the trial of a police inspector who killed his wife have been told to consider whether her death was a "terrible, terrible accident".
Darren McKie, 43, has admitted the manslaughter of wife Leanne but denies her murder at Chester Crown Court.
Detective constable Mrs McKie, 39, was found strangled in Poynton Lake, Cheshire on 29 September.
Trevor Burke QC, defending, said prosecutors had to prove her death was "deliberate, calculated, cold murder".
In his closing speech, Mr Burke said the sole issue was whether McKie, who did not give evidence in the trial, "wanted rid of her, wanted her dead".
He said the evidence was equally consistent with a struggle and attempt to silence her.
'Dreadful confrontation'
Mr Burke said: "We would submit, based on what you know of him and her, the very last thing he would have wanted was the death of his wife."
The court has heard McKie returned to the family's Wilmslow home on the day of his wife's death after she discovered he had applied for a £54,000 joint loan without her knowledge.
Mr Burke said: "We don't know precisely what happened because the defendant has not given evidence, but you don't need to be Sherlock Holmes to work out there must have been a most dreadful confrontation.
"The moment he put his key in the lock and opened that door, Leanne was waiting for him."
He said it was "fanciful" to suggest McKie might have been worried his wife would report him over the loan application and he would lose his job with Greater Manchester Police.
'Significantly in debt'
The couple owed more than £100,000 at the time of Mrs McKie's death and had always lived beyond their means, he said.
They had recently spent £3,500 on a granite kitchen worktop during renovations.
He told the jury: "That's a month's salary for this family on a kitchen counter. Small wonder they found themselves so significantly in debt so quickly."
Mr Burke said Mrs McKie must have known their income could not sustain their level of spending but decided not to inquire.
He said: "It seems crystal clear that Mr McKie didn't discuss money with her or at least didn't discuss it with her in the way he most definitely should have done."
He added McKie was a man of good character before her death and there was no history of violence in the relationship.
The trial continues.