Hulton Park: Green belt Ryder Cup course plan backed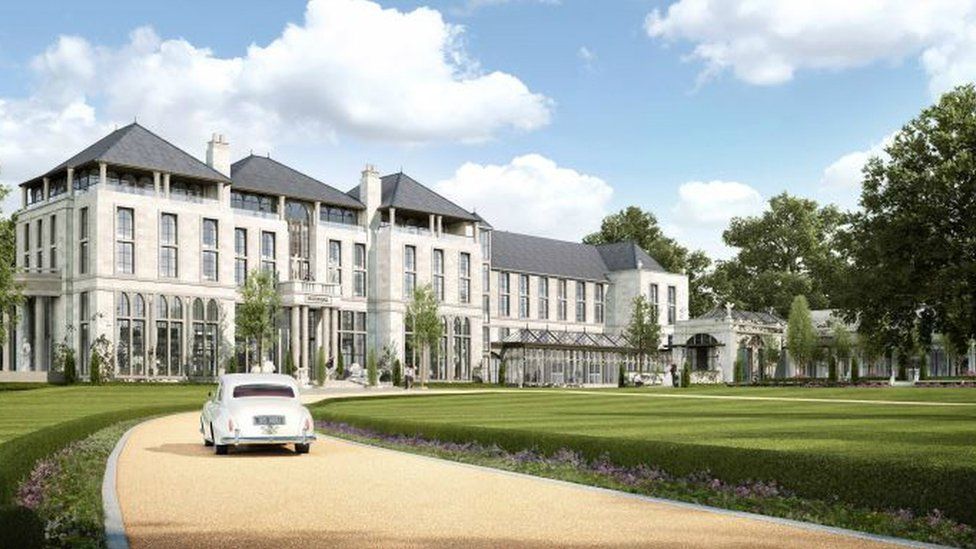 A controversial proposal to build a golf course to host the Ryder Cup and more than 1,000 homes on green belt land has been backed by planners.
Developer Peel's plan includes building in Hulton Park, a Grade II-listed park near Westhoughton in Bolton.
Council officials have recommended it is approved despite hundreds of objections, including from local MPs Chris Green and Yasmin Qureshi.
Bolton Council will make a final decision on Thursday.
The scheme at Hulton Park, once home to the now-demolished Hulton Hall, is aimed at attracting the 2026 Ryder Cup - golf's biennial contest between teams from Europe and the United States.
A spa hotel would also be built and the park's original pleasure grounds restored.
Historic England's policy is not to object to the development of golf courses in listed parks and it is understood the houses would be built outside the listed area.
A Ryder Cup Europe spokesman said unfinished courses had been awarded the event in the past, with Celtic Manor in Wales being redeveloped specifically to host in 2010.
He said the criteria to host in 2026 would not be decided until after this year's tournament, with the venue announced "towards the end of 2019".
Conservative Mr Green and Labour's Ms Qureshi wrote to oppose the development along with Westhoughton Town Council and hundreds of members of the public.
A planning officers' report said the scheme would cause "substantial harm" to the green belt, but the benefits of hosting the event, along with the restoration work, would "clearly outweigh" that issue.
It added if the course was not awarded or did not host the Ryder Cup, there would not be "sufficient benefits" to justify the project and Peel would "not be able to proceed" with the plans.
The Ryder Cup, which is held alternately in the US and Europe, will be hosted in Paris in September and in Rome in 2022.
Related Internet Links
The BBC is not responsible for the content of external sites.