Middlewich canal collapse leaves up to 20 boats stranded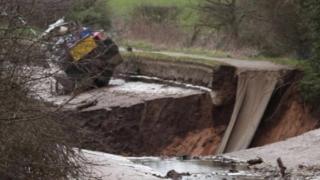 A section of the Shropshire Union Canal has collapsed, causing water to drain into the River Wheelock and leaving up to 20 boats stranded.
The collapse is affecting part of the canal which leads to an aqueduct over the river near Nantwich Road in Middlewich, Cheshire.
The canal and towpath have been closed for repair work and to allow the cause of the breach to be investigated.
The Canal and River Trust said it would offer help to the owners of the boats.
'Massive angle'
Peter Mitchell, 25, from Gloucestershire, has a time-share in a barge that was moored up near the scene on Thursday night.
He said he was in the boat "watching telly, got up to make a cup of tea and noticed the boat was on this massive angle".
"So I went outside to have a look and there was no water in the canal."
He said he then watched as "20 or 30ft" of canal collapsed, adding that his boat would be "sat on the mud" until the problem is fixed.
A trust spokesman said another man who was found on board a boat that was closer to the breach had been moved to safety.
A man was also seen saving a carp from the draining waterway, rehoming it in the nearby Trent and Mersey Canal.
The canal is currently drained between Stanthorne Lock and Wardle Lock, on the south side of Middlewich town centre.
The spokesman added there may also have been "minor damage" to one local resident's garden.