Police inspector Darren McKie admits killing wife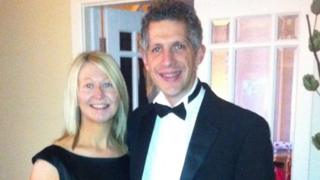 A police inspector has pleaded guilty to the manslaughter of his wife who was found dead in a lake at a Cheshire park.
Darren McKie, 43, remains on trial at Chester Crown Court for the murder of his detective constable wife, Leanne.
He changed his plea just before he was due to give evidence and will now not give testimony at the trial, which will continue on Monday.
The pair worked for Greater Manchester Police and lived in Wilmslow, Cheshire.
Trevor Burke QC, defending, said he would be calling no evidence in the case and the jury was told to consider whether he intended to kill Mrs McKie or cause her serious harm.
'Shallow water'
Mrs McKie's body was found in Poyton Lake on 29 September 2017.
Earlier in the trial, Nigel Power QC, prosecuting, said Mrs McKie was found in "shallow water, but she hadn't drowned. She had been strangled".
A post-mortem examination found she was likely to have been killed at about 12:00 on the day before she was discovered, the court has been told.
The court heard the couple had debts of £103,000 and had been "living well beyond their means".
The trial has been adjourned until 12:00 on Monday.