Police release picture of how 16-year-old shooting victim would now look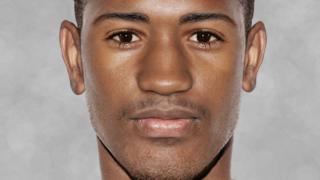 Police investigating the fatal shooting of a 16-year-old boy 10 years ago have released an image of how he might have looked as an adult.
Louis Brathwaite was killed when a man fired five shots at random into a betting shop in Manchester.
Martin Bottomley, head of Greater Manchester Police Cold Case Review Unit, said Louis's family was still overwhelmed by his death.
Louis's mother said she hoped the image "would pull at someone's heartstrings".
A £50,000 reward for information leading to his killer's conviction is still available.
Louis was in the William Hill branch on Mauldeth Road West, Withington, when he was shot by a masked man at about 20:40 GMT on 29 January 2008.
The gunman stood at the entrance and fired into the shop, wounding Louis in his shoulder and abdomen, despite his best efforts to take cover, police said.
The killer fled in a black VW Golf with the registration WG07 YXY, which sped down Yew Tree Road before turning on to Old Moat Lane.
There it crossed a roundabout on the wrong side of the road and disappeared from view.
Mr Bottomley said the force hoped that over 10 years people who knew the killer might have "changed their allegiance", and he appealed to them to "search their consciences".
"Why would any man choose to go into a betting shop and start indiscriminately firing at innocent people?" he said.
"The utter devastation he has caused by murdering Louis is still overwhelming for his family, who have spent the last 10 years with the question of who killed their son hanging over them."