St Ambrose College: 'No evidence' of school abuse cover-up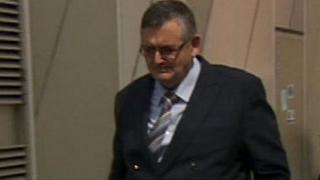 An inquiry set up to examine allegations of complicity at a school where a deacon was convicted of abuse has found "no evidence" of a cover-up.
Alan Morris was jailed for nine years in 2014 for sexually abusing 10 boys at St Ambrose RC College in Altrincham.
A parallel investigation was launched in the same year to look into claims that individuals at the school were "complicit" in the abuse.
The inquiry concluded the school acted appropriately.
But its findings, published on Friday, said the Christian Brothers religious order which ran the school should have acted more swiftly when the allegations came to light.
The inquiry's report also said "further consideration" should be given to Morris' victims.
"To date, it appears that not all victims may have enjoyed the full recognition they deserve," it said.
The school should have empathised "more closely" with the "strong emotions" of former pupils.
"The perception that the current regime has distanced itself from their early school experiences has possibly increased negative feelings about the college rather than appeased them," it said.
'Deeply saddened'
In a statement, the school apologised to Morris' victims and said it was "deeply saddened" by the impact of his actions.
"The college is keen to implement any recommendations from the report, which are not already addressed swiftly and effectively," it said.
The report said the head's initial reaction to allegations in 2006 - six years before allegations were reported to the police - was concerned with protecting Morris, and "possibly the school's reputation".
No evidence was found to support allegations made in 2014 that two teachers were aware of Morris' behaviour, it found.
Morris, now 68, was found guilty of 19 sex assaults carried out while he worked at the Hale Barns school.
When the offences took place, between 1972 and 1991, the school was run by the Christian Brothers.
The crimes came to light in 2012 when one of the victims contacted police.