Darren McKie 'laughed on school run after killing wife'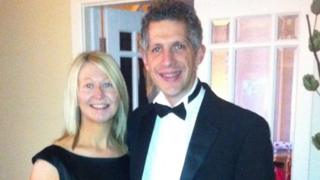 A police inspector showed a surveyor into his home and laughed with parents on the school run in the hours after killing his wife, a court was told.
Darren McKie, 43, seemed "a little bit more upbeat than usual" at the school gates, Chester Crown Court heard.
He "exchanged pleasantries" with the surveyor at the couple's house about an hour after strangling his detective wife Leanne, jurors were told.
Mr McKie denies killing Mrs McKie, who was found in Poynton Lake in Cheshire.
The court heard Mr McKie had left work at Stretford police station abruptly at about 11:30 GMT on the day of her death after receiving a text message from his wife when she discovered he had applied for a £54,000 loan in her name.
He returned home to Burford Close in Wilmslow, Cheshire, at 12:05 before meeting chartered surveyor Anthony Parker at the house.
Mr Parker said he spoke to Mr McKie on the phone at 12:09 to confirm a time to value the house, in connection with the loan application.
In a statement, neighbour Ann Taylor said she saw a red Mini - Mrs McKie's car - reversing out of the driveway at about 12:45 but could not see who was at the wheel.
Mr Parker said there were no cars on the driveway when he arrived at the house at about 13:00 and Mr McKie arrived on foot a few minutes later.
"Mr McKie opened the door, we exchanged pleasantries," Mr Parker said.
When questioned by Trevor Burke QC, defending, he agreed the survey had been "totally unremarkable" and Mr McKie was "perfectly normal" and was not agitated.
'Laughing hard'
In statements read to the court, friends of the couple described seeing Mr McKie picking children up from school later that day.
Sarah Eaton said she saw him "really laughing hard" as he walked out of the school gates and remembered "thinking he must have been told something funny".
"Looking back on it now, the laughing appeared over the top," it said.
When speaking to Mr McKie outside the school, Nick Baglin said he "appeared a little bit more upbeat than usual, he certainly didn't appear to be carrying any stress or strains."
"The last thing Darren said to me was 'we must have you round for drinks'."
A post-mortem examination revealed Mrs McKie was likely to have died at about midday on the day before her body was found on September 29 last year.
The court has heard that the couple, who both worked for Greater Manchester Police, were more than £100,000 in debt.
Mr McKie denies murder and manslaughter.
The trial continues.