Cheshire drink-driver tells court 'driveway too long to walk'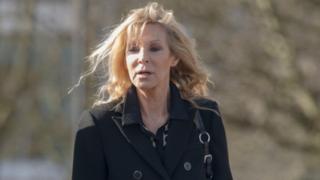 A drink-driver begged magistrates not to ban her from the road because her £6m mansion's quarter-mile driveway was too long for her to walk.
Barbara Woodward, 56, also claimed she would struggle to do community service as she had never worked in her life.
Police arrested her for being three times the limit at 09:00 GMT in Chelford, Cheshire on 17 November.
She denied drink driving but was banned for two years after being convicted at Stockport Magistrates' Court.
Defending, Nigel Beeson said: "This lady has quite a large front drive - it is a quarter of a mile from the road and it would be difficult for her.
"She would have to make some lifestyle changes to go about her day-to-day life."
Mr Beeson also said Woodward would find a community sentence difficult as it would "put her in an alien surrounding" as she had never worked.
Magistrates instead ordered her to do 15 days' rehabilitation and fined her £560 with £760 surcharges.
Cheshire Police found her slumped at the wheel of her £79,000 Mercedes G-Class 4x4, with her make-up smeared and slurring her words.
The court heard she had tried to buy sparkling wine at a petrol station to make bucks fizz for friends.
Petrol station attendant Sharid Butt said: "The lady got out of the car and was stumbling all over the forecourt.
"She grabbed three bottles of different wines then she stumbled over to the counter to pay me for them.
"She didn't seem right and I knew she was drunk."
He called police after she drove off at 5mph and staggered out of another shop.
The court heard it happened two days after her husband's funeral.
Mrs Woodward said: "He did everything, and then when he died I had to take over. I had never paid a bill in my life."