Police injured in Walkden attack involving 'up to 50 youths'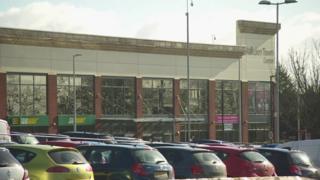 Two police officers have been "badly injured" in a "disgraceful" attack involving up to 50 youths.
The pair were hurt after the gang smashed lights and threw bottles at Ellesmere Shopping Centre in Walkden, Salford, at about 20:50 GMT on Monday.
One officer's ankle was broken, while the other suffered a back injury.
Supt Howard Millington said some of those involved had filmed the attack on their phones, adding the people responsible would be "brought to book".
He said the officers had been responding to a disturbance involving "between 30 and 50 youths" and were attacked as they attempted to make an arrest
A 14-year-old boy was arrested on suspicion of assaulting two police officers and criminal damage. He was later bailed pending further inquiries.
Supt Millington said: "It is absolutely disgraceful that two of our hard-working officers have been injured when they were simply doing their job.
"This incident shows how committed our officers are to protecting the people of Salford and the injuries they have suffered are completely unacceptable."
He added that anyone with footage of what happened should "do the right thing and come forward".
"If they're not involved, they've nothing to worry about, and we will support them through the process," he said.