Cheshire chief constable Simon Byrne 'bullied staff'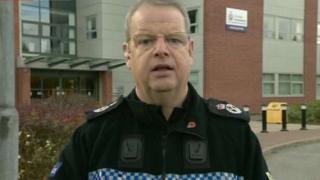 A chief constable is facing a disciplinary hearing accused of "angry outbursts and aggressive attacks" on his staff, along with bullying claims.
Details of the gross misconduct allegations against Simon Byrne have been released by Cheshire Police and Crime Commissioner's office.
Mr Byrne, who has been chief constable since 2014, was suspended in August pending the hearing.
Neither Mr Byrne nor the force has commented on the case.
'Volatile behaviour'
Mr Byrne is accused of "discreditable conduct" and breaching police professional standards relating to "authority, respect and courtesy".
In a citation, Mr Byrne is told: "You lacked self-control and exhibited volatile, unpredictable and offensive behaviour.
"You displayed a short temper and a lack of tolerance and engaged in angry outbursts and aggressive attacks upon subordinate staff which created an intimidating, hostile and humiliating environment for staff in the 'ACPO office' and which you knew or ought to have known would cause distress and anxiety to members of Cheshire Constabulary."
The citation against Mr Byrne lists 74 separate breaches of the professional standards.
The allegations include:
Berating and belittling the force's head of IT despite a lack of understanding of the technology used
Letting his children use a force tablet computer and then blaming the device for failures caused by their downloads
Repeatedly failing to keep appointments such as the National Police Memorial Day or phone conferences with the North West's other chief constables
Telling an inspector she should inform a female assistant chief constable that her hairclip did not conform to the force uniform standards
Exhibiting severe mood swings and bullying one inspector after failing to become the chief constable of Greater Manchester
During Mr Byrne's absence, Deputy Chief Constable Janette McCormick has been the force's acting chief constable.
Mr Byrne's public disciplinary hearing will be held in Warrington from 16 April to 27 April.