Salford £10m flood defence scheme protects 2,000 homes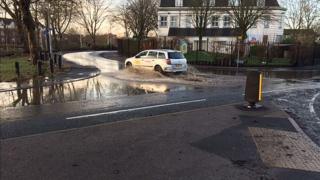 A £10m scheme to protect around 2,000 homes and businesses from flooding, which includes more than 12 acres of urban wetland, has been completed.
The Salford project has created a flood storage basin that can hold more than 250 Olympic-sized swimming pools worth of water, the Environment Agency said.
It will protect properties in the city which were hit by the Boxing Day floods in 2015.
Homes were flooded and evacuated in Kersal, Lower Broughton and Trinity.
The 28 hectare (70 acre) flood basin within a meander loop of the Irwell will hold water in flood conditions to protect properties.
Emma Howard Boyd, chairwoman of the Environment Agency, said: "The £10 million Salford flood scheme will reduce flood risk to almost 2,000 homes and businesses."
Half of the scheme's funding came from Government grant-in-aid, £4.1m from a Government growth fund and Salford City Council contributed the remaining £1.2m.
The Boxing Day flood was the worst in central Salford since 1946.