Droylsden 'big stink' cause investigated by Environment Agency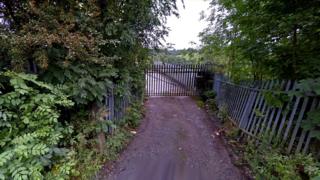 A "terrible stench" surrounding a farm has led to an investigation into whether it is being used as a dump.
The Environment Agency (EA) said it was examining several reports of "unauthorised waste disposal" and bad odours near Gartside Farm in Droylsden, Greater Manchester.
Tameside Council has ordered the land owner and occupiers to stop the smell causing a nuisance to residents.
Land owner Lay Hy Chhung apologised and said he did not know it was happening.
He added that he had been liaising with the council and Greater Manchester Police.
Big stink
People living near the farm claim the stink started in October.
"It is disgusting," said Nicola Watts from residents' protest group Droylsden Stinks. "It permeates right through your home.
"No-one seems to want to take responsibility or foot the bill - understandably - and at the very least try to prevent the disgusting smell and noxious gases being emitted."
The council said it was carrying out air sampling tests.
"We have served a statutory nuisance abatement notice on the owner and occupiers of the land in respect of the smell," said a spokesman.
"The notice basically requires whoever is responsible for the smell to stop it causing a nuisance to local residents.
"They now have an opportunity to respond and comply - if they don't comply then there are further steps we can take, including legal action."
While the farm is near a sewage treatment area, residents claim the recent big stink is unrelated.
More than 3,000 have complained to the council about the tip, which is said to be the size of three to four football pitches.