Manchester United urged to boost wages for low-paid staff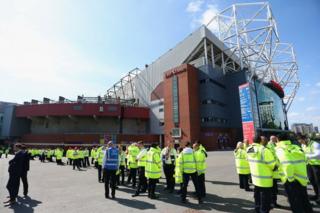 Campaigners are urging Manchester United to increase the pay of some of its staff because of the "grotesque" difference with players' salaries.
The Citizens UK charity will pass an open letter to the club in support of match day workers, some of whom it says are paid less than £7 per hour.
The charity's letter calls on the club to show "moral leadership".
The club said it paid permanent staff the Voluntary Living Wage, more than the statutory national figure.
The letter has been signed by business and community leaders including Stretford MP Kate Green, Bishop of Salford John Arnold and Tom Skinner, director of Greater Manchester Poverty Action.
Citizens UK said if new signing Alexis Sanchez was paid £400,000 a week, as some have reported, it would take him just 82 minutes in a game to earn the annual salary of a low-paid stadium worker.
Sanchez's pay, and millions reportedly given to his agent, revealed a "grotesque tale of two halves", with some staff on less than £7 an hour, said the group.
The letter, addressed to the club's executive vice-chairman Ed Woodward, is calling for a "community-first business approach".
It says: "The community spirit and passion of low-paid staff has helped to build the club's prestigious reputation.
"Everyone who makes the magic of match day happen deserves to live with dignity.
"We acknowledge the vital contribution that Manchester United makes as a global brand. We would be delighted if this could be reflected in a wage uplift for all low-paid staff."
'Competitive salaries'
The club has topped the table of the world's 20 richest football clubs for the second year in a row.
A club spokesman said: "Manchester United pays its staff competitive salaries for the jobs they undertake.
"We have many variations of contracts in place due to the size of the club, although all permanent employees, whether engaged on a full or part-time hours basis, are paid the Voluntary Living Wage, in line with the Premier League agreement."
The Voluntary Living Wage is £8.75 an hour outside London compared with the compulsory National Living Wage of £7.50 for over 25-year-olds