Strangers rally after funeral cash for charity stolen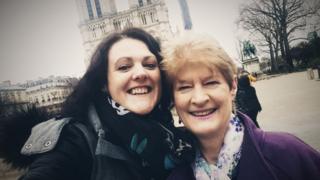 A woman who was burgled of the charity money raised at her mother's funeral has hailed the "kindness" of strangers who replaced it.
Denise Evans collected about £600 for Manchester's St Ann's Hospice at Carol Evans's funeral but it was stolen from her flat in Eccles.
Friends promoted an online JustGiving appeal on Twitter and in three days it had raised £1,800.
Ms Evans, 34, said: "It's all in the spirit of how Mum lived life."
Carol Evans died from cancer aged 70 at St Ann's in Little Hulton in December. She had supported the hospice, a cause "close to her heart", for years.
Mourners placed their donations in two charity buckets at her funeral at Manchester Cathedral.
Ms Evans took them home but they were stolen last week when her flat was ransacked during a break-in which is being investigated by police.
'Grateful'
Her friends set up the JustGiving appeal after the burglary and promoted it on social media.
Parklife festival organiser Sacha Lord-Marchionne also wrote a cheque for £600 which is not included in the JustGiving total.
Ms Evans said: "I'm touched to see so many donations coming - not just locally, but from all over the country - and especially by those who donated again after their original donation was stolen.
"I'm so, so grateful. It it is all in the spirit of how my mum lived her life - with kindness and compassion."
St Ann's was founded in 1971 and offers palliative care in Little Hulton, Heald Green and Wythenshawe Hospital.
Spokeswoman Claire Briscoe said of the appeal: "We were delighted. The good people always outweigh the bad."