Manchester Arena attack 'hero' jailed for theft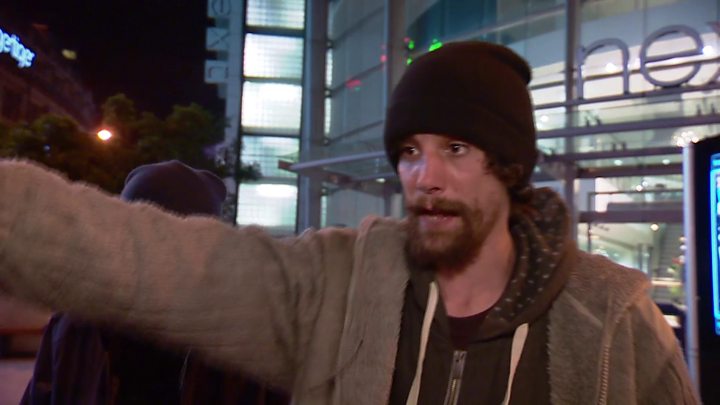 A homeless man who stole from victims of the Manchester Arena bomb attack has been jailed.
Chris Parker was hailed a hero after saying he helped, but CCTV showed him stealing from two victims and taking photos of others as they lay dying.
The 33-year-old had previously admitted stealing a purse and a mobile phone.
Jailing him for four years and three months at Manchester Crown Court, Judge David Hernandez told Parker: "You were not the hero you pretended to be."
The judge added: "You were just a common thief."
Parker pleaded guilty to two counts of theft and one of fraud after admitting using a debit card from the stolen purse.
Judge Hernandez said: "You stole from people who were seriously injured at a time when others were either dead or dying.
"It is hard to contemplate a more reprehensible set of circumstances."
Salman Abedi detonated a homemade bomb at an Ariana Grande concert at Manchester Arena on 22 May, killing 22 people and injuring many more.
CCTV footage played in court showed Parker leaning over injured survivor Pauline Healey and taking her handbag to steal her purse, as her teenage granddaughter lay dying nearby.
Hours later, Parker was using Mrs Healey's bank card at a local McDonald's restaurant.
The court heard the footage also captured him taking photographs of the victims, including one of Mrs Healey.
Prosecutor Louise Brandon showed the judge four pictures Parker took in the foyer which, she said, he later sold for £100.
She said the CCTV footage shows Parker "taking the opportunities that presented themselves to him to take photographs and to look for and, where possible, take valuable items, such as purses and mobile telephones from the bags of the victims".
"As the tragedy unfolded around him, when the vast majority of those who were in the arena with him were trying to save lives and care for the injured and lost, the defendant was focused on seeking to take advantage of the situation," she added.
Parker also stole a mobile phone from a 14-year-old girl who was seriously hurt in the blast.
Miss Brandon said the teenager had been holding it at the time of the explosion.
Parker then picked it up, the court heard.
The prosecutor said the girl's phone rang a number of times as people tried to contact her, but Parker terminated one call with an automatic return text message which read: "Sorry I can't talk right now."
In a victim personal statement, the girl's mother said the theft was "yet another blow as to how despicable people could be".
Supt Chris Hill, from Greater Manchester Police, said: "No matter what personal circumstances you might find yourself in, to steal from injured and terrified innocent people is deplorable.
"Parker exploited these people when they were at their most vulnerable and needed the help of those around them."
The judge told Parker he will serve half his sentence in custody before being released on licence.
He also banned him from Manchester city centre for 10 years.
When the story of Parker's "heroism" was originally reported, an appeal on the crowdfunding website GoFundMe raised £52,000.
A spokesman for GoFundMe said Parker did not receive the money and it has been returned to the donors.