Cheshire East Council: 200 staff say they were bullied in second half of 2017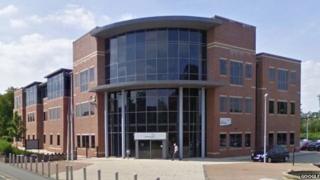 The behaviour of "some individuals with power" has led to council staff being bullied, an independent report found.
Some 14% of respondents to a survey - about 200 Cheshire East Council employees - said they had experienced it during the second half of 2017.
Some felt former council leader Michael Jones may have "set a tone" which "encouraged" or "excused" unacceptable behaviour, the report added.
But Mr Jones told the BBC the problem got worse after he stood down in 2015.
Acting chief executive Kath O'Dwyer said she was "saddened" by the report but "determined to take all necessary action" to tackle the issue.
The Local Government Association (LGA) was commissioned by Cheshire East Council to review its "organisational culture" after 10% of staff who took part in a 2016 survey said bullying was a workplace issue.
A new survey found 14% of respondents said they had experienced bullying in the last six months of 2017, with 24% claiming they had witnessed it during the same period.
Review author Sarah Messenger said "some people are so scarred by what's happened to them or others that they remain afraid to put their head above the parapet".
"Some people would prefer to leave than raise a grievance," she added
---
Analysis: Phil McCann, BBC Cheshire Political Reporter
The problem of bullying at Cheshire East seems to be as old as the council itself.
The report says "an opportunity was missed" when the council was established in 2009 to "define and establish a positive and respectful organisational culture enjoyed by all.
"This created a vacuum which was filled by the behaviours of some individuals with power which has resulted in organisational confusion and very different experiences across the workforce, some of which can be described as bullying or inappropriate behaviour."
But this is not a problem specific to this council - the report author claims the level of bullying "is not out of kilter" with what would be expected in other councils, the civil service or the NHS.
Ms Messenger said it was "heartening" that the majority of the staff who responded to her survey had not experienced or witnessed bullying.
But, she added, "there are clearly issues to be addressed when over 200 people say they have personally experienced bullying in the past six months, and over 360 people have personally witnessed bullying in the past six months."
---
The review found the "bullying or bad treatment" described by staff had been perpetrated by some councillors, senior managers and line managers.
"Many people felt that (Mr Jones's) leadership set a tone which encouraged, or at least excused, similar poor or unacceptable behaviours in others and that the impact of that time is still felt today", the report said.
Mr Jones denied he was to blame, accusing the council's current leadership of "living in a dreamland".
"Under me we had a high performing council, excellent services, morale was higher and the number of bullying complaints was lower.
"It saddens me when people want to keep bullying me, the blame of legacy is bullying me," he told the BBC.
'Determined we will improve'
Former Unison convenor at Cheshire East Council Jonathan Shaw said there was an "horrendous culture" there.
The leader of the opposition Labour group, Sam Corcoran, said the report findings were "of great concern and indicative of a wider lack of trust in the leadership of the council".
And he complained the review's terms of reference were "highly restrictive", with "key witnesses" prevented from taking part.
The review recommended improved training for councillors, a new "employment deal" for staff and an independent bullying helpline.
"There is a clear sense that whilst challenges remain, the Council now has the right political and managerial leadership to continue to steer the organisation in the direction it wishes to go," the report said.
The council's Conservative leader, Rachel Bailey, said she was "determined we will improve".
"This is a once in a lifetime opportunity to set the culture and tone of this authority."
"I accept the responsibility absolutely of leadership."