Extra £7 council tax fee agreed for Greater Manchester mayor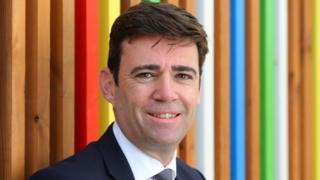 An extra charge on this year's council tax bill has been agreed to pay for Greater Manchester's mayor.
Householders will be charged an average of £7 annually to pay for Andy Burnham's £110,000 salary, as well as his transport and housing plans.
The precept, agreed unanimously at a meeting of all ten council leaders, will also pay the £730,000 cost of running his office including his wages.
The Taxpayers' Alliance described the council tax rise as "pretty bad news".
Most people in Greater Manchester were not aware they would have to pay between £6 and £18 to have an elected mayor, the group claimed.
"It's been snuck up on quite a few Mancunians that was not really announced before," said the group's policy analyst Duncan Simpson.
"On the face of it, it does not seem a particularly amount of money.
"But there is no requirement for him to raise taxes.
"One should be very sceptical about the introduction of these taxes when the burden of council tax on all Manchester householders is already very high."
Helping the homeless
The additional charge - which will range from £6 to £18 - depends on individual council tax banding although 83% of householders will pay no more than £8 a year.
The mayoral precept will raise £6.5m with just under £4m allocated to pay for Mr Burnham's plans to ease transport congestion and improve public transport.
His other plans include:
Developing affordable housing to protect green sites
Making Manchester the UK's leading digital and green city
Eradicating homelessness by 2020
At the meeting, Mr Burnham stressed his commitment to helping the homeless as it was revealed rough sleeping had increased by 42% across Greater Manchester.
He said: "We are intensifying our efforts - this is an humanitarian crisis."
Oldham Council's Labour leader Jean Stretton agreed with the rise to pay for Mr Burnham.
She said: "You can't run a mayor's office without setting a precept to run it.
"Yes it is an increase," she said. "But the benefits that should flow from having the mayor's office and having the mayoral priorities, it seems a reasonable amount of money for what is being asked."