Axe-wielding Bolton 'vigilante' video is 'fake news', say police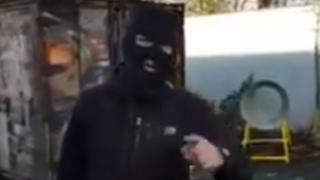 A video that purported to show a balaclava-clad, axe-wielding "vigilante" has been described as "fake news" by police.
The footage was widely shared on social media and reported as a genuine story in some national newspapers.
It shows a masked man swinging an axe at a "drug dealer's" car and warning criminals in Bolton they were "playing with the wrong vigilantes".
Greater Manchester Police said it had established the footage was staged.
In the video, the man, dressed all in black, claimed that masked vigilantes were patrolling the streets of Blackrod, Bolton, with baseball bats after complaining police had failed to combat crime in their area.
The video shows the self-styled vigilante destroying a car - first with an axe and then by lifting and dropping it with a forklift truck.
Ch Insp Clark Bowers, of Greater Manchester Police, said: "We are aware of a video that shows a person in a balaclava with an axe claiming to be part of a vigilante group from Blackrod.
"While it appears to be very real, this is fake news. It is not a true reflection of the people of Blackrod nor of the current picture of crime in the area and it is very misleading.
"We have identified the person in the video and have established that this is a staged video and although it was not a good decision to make, there was no malicious intent."
Mr Bowers added: "Unfortunately, before we were able to investigate this fully, it was shared a number of times on social media and used by some newspapers, causing unnecessary worry and panic."