'Not sexy' Radcliffe has flood defence funding gap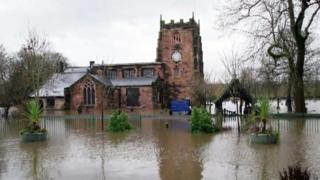 Funding for an area's new flood defences faces a £15m shortfall because it is "not sexy" like the Lake District or Cotswolds, campaigners have claimed.
Nearly 700 homes in Radcliffe, Bury, were flooded during Storm Eva in 2015.
New defences could cost £45m, according to local MP Ivan Lewis, but funding from the government, Bury Council and other sources stands at £30m.
Radcliffe Flood Action Group claimed discrimination but the government said funding is "fairly prioritised".
A spokesman for the Department of Environment, Food and Rural Affairs (Defra), which has given £27m to the project, said its "funding formula ensured areas which most desperately need protection are fairly prioritised".
'A bit annoying'
Action group member Joyce Walkden, whose home was flooded, said she "honestly" believed if the town "were in the Cotswolds or Lake District, we would not be being treated like this".
"Radcliffe is part of Bury and is not sexy," she said.
Councillor Alan Quinn, Bury Council's lead on flood protection, said it was "now down to a political decision".
"One of the formula for flood defences is based on property prices - in Radcliffe, that puts us at a disadvantage to places down south."
He said it was "a bit annoying that Boston in Lincolnshire has just been given £100m for a flood barrier".
Plans for that project were approved by government in December 2017.
Mr Lewis and Bury Council have said they will lobby government for the remainder of the funding.
The Defra spokesman said it was investing more than £39m over six years to protect 4,000 homes in Greater Manchester from flooding by 2021.
He said "detailed work to establish the best flood defence options for Bury and Rochdale are under way and the Environment Agency will be consulting with local communities this year".