Air steward smuggled heroin on Dubai to Manchester plane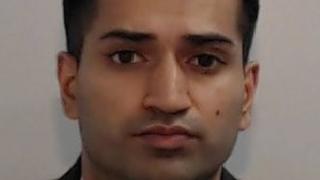 An airline steward who smuggled heroin on a plane while working in business class has been jailed for eight years.
Zohaab Sadique, 30, of Broadway, Oldham, flew to Dubai on an Emirates Airline flight and picked up the drugs in January last year.
He smuggled them back on the return flight to Manchester and was caught at the city's airport.
On Tuesday, Sadique pleaded guilty at Manchester Crown Court to importing a Class A drug.
The court heard Sadique was caught with 1kg (2lb) of heroin at Manchester Airport when Border Force officers and a detector dog carried out checks on the cabin crew, including a search of the bus that transferred them from the plane to the terminal.
The officers found a white carrier bag with five clear bags of brown powder stuffed behind Sadique's seat, while CCTV cameras caught him hiding the bag on board the bus.
Jon Hughes, operations manager at the National Crime Agency, said: "Zohaab Sadique attempted to use his privileged access and knowledge of the systems in place at the airport for criminal purposes.
"Corrupt insiders like him are very dangerous people."