Anthony Grainger shooting: Officers face 'gross misconduct' probe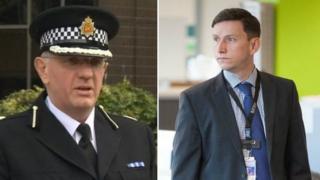 Two senior Manchester police officers are being investigated for alleged gross misconduct over evidence given to an inquiry into the fatal shooting of an unarmed man, the BBC has learned.
Assistant Chief Constable Steve Heywood, who authorised the operation in which Anthony Grainger died, and Det Ch Insp Robert Cousen have been or will be interviewed under caution.
The Independent Office for Police Conduct (IOPC) is behind the probe.
Mr Grainger died in Cheshire in 2012.
The father of two was shot dead by a Greater Manchester Police (GMP) officer through the windscreen of an Audi in a car park in Culcheth, on 3 March 2012.
The 36-year-old was under observation amid suspicions he was part of a gang conspiring to commit armed robberies.
The BBC understands the IOPC investigation is examining evidence ACC Heywood gave to the inquiry regarding notes in a firearms logbook.
The notes appeared be a contemporaneous record of what happened in the days before Mr Grainger's death, as the police operation was planned.
However, the inquiry heard it was likely some of the notes had been written after the shooting, leading to claims they gave a "false impression" of intelligence.
The BBC has been told the matters are so serious there is the potential for criminal investigations into the actions of the two senior GMP officers.
The two men have now been formally served with gross misconduct notices.
The IOPC said this did not mean they necessarily had a case to answer, but rather informed them their conduct was under investigation and confirmed "the level of severity".
ACC Heywood has not returned to work since he gave evidence at the inquiry chaired by Judge Thomas Teague QC last March.
Det Ch Insp Cousen was the senior investigating officer on the operation which led to Mr Grainger's death.
ACC Heywood admitted to the inquiry there were "some flaws" in his record-keeping and "apologised unreservedly" for them.
But he strongly denied deliberately misleading the inquiry.
"This was not any great conspiracy from Greater Manchester Police," he told the hearing.
"This is my personal failing as a firearms commander for not doing the paperwork."
The IOPC investigation regards these matters as so serious that criminal investigations could follow.
It is not yet known when Judge Teague will publish his inquiry's findings.