Council backs move to stop anti-abortion 'harassment'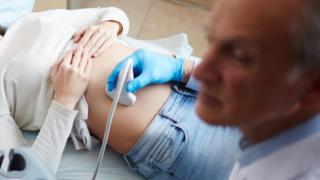 A council has backed a move to prevent anti-abortion protesters from harassing women outside clinics.
Pro-life campaigners have been accused of displaying disturbing images and questioning or filming women near centres in Manchester.
Manchester City Council said it would take "all necessary actions" to stop vulnerable women being intimidated.
The Society for the Protection of Unborn Children (SPUC) denied women are harassed at the "peaceful vigils".
'Most vulnerable'
Cllr Sarah Judge described protesters on one occasion scattering holy water in the path of a women entering a clinic and calling her "a murderer".
She said one clinic had told her "the nature of protests over the last 12 months has become much more aggressive and militant".
The council backed Cllr Judge's motion committing the council to "explore every possible option" to protect women accessing pregnancy services, including a possible ban on protests.
The motion is "explicitly not one for or against abortion" but is to stop women being approached when they are "at their most vulnerable" when accessing legally existing health services, she said.
Council leader Sir Richard Leese said it is "a controversial and difficult issue".
"I respect people having different beliefs but don't respect them forcing their opinions on others. Women should be able to access this right without fear or intimidation."
Cllr Rebecca Moore said it "isn't a moral but a medical issue" and suggested the council look at Ealing Council's steps to establish a public space protection order (PSPO) outside a Marie Stopes clinic in west London.
Any possible order would be likely to prohibit people from approaching or monitoring women accessing the clinic, congregating in large groups, displaying distressing images and using amplification equipment.
Cllr Josie Teubler suggested the council "be incredibly careful drafting this motion... in our wording an how we implement it" so that it does not impinge on other peaceful protests.
John Marechal, from the Manchester branch of SPUC, said they are there to pray and offer support and advice.