Shahida Shahid: Burger allergy death was 'misadventure'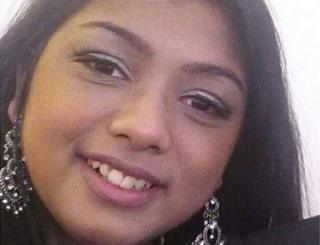 A "lack of communication" contributed to the death of a woman who suffered an allergic reaction to a chicken burger, an inquest jury has found.
Shahida Shahid, 18, from Worsley, Salford, was out with friends on 9 January 2015 when she collapsed after eating at Almost Famous in Manchester.
A friend gave her an injection in a bid to stem the reaction and she was rushed to hospital, but died three days later.
The jury at Manchester Coroner's Court returned a conclusion of misadventure.
The hearing previously heard how the University of Manchester student suffered severe brain damage after eating the burger, which was marinated in buttermilk.
On two previous occasions she had been hospitalised with allergic reactions after inadvertently eating dairy products, including once on her 16th birthday.
At the conclusion of her inquest, the jury found a "lack of communication" between a server and a chef at the Peter Street restaurant "led Shahida to believe she could eat the meal".
The menu did not specify the burger was marinated in buttermilk, the jury's foreman said, although it did invite customers to discuss any allergies with staff, which Shahida "confidently did".
He added: "The ticket went through to the kitchen containing Shahida's allergies, which were missed numerous times during the preparation, construction and delivery of the burger."
Speaking after the hearing, the teenager's older brother Rasel Shahid said she had known "how to look after herself, knew where to eat and knew what to eat".
"If she was ever unsure, she would walk away," he said.
Mr Shahid said he hoped restaurants would see what had happened in this case and take on board "how severe allergic reactions are".
Correction: An earlier report from the hearing, originally published on 11 January, incorrectly attributed a comment by sous chef Mathieu Pierre about a "terrible mistake" to the restaurant's head chef.