Greater Manchester Mayor Andy Burnham admits rise in rough sleepers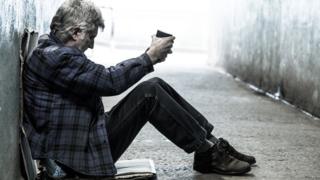 Rough sleeping will end in Manchester by 2020, Andy Burnham has promised, despite admitting the number has actually gone up since he became mayor.
It "isn't an easy problem to solve", said Mr Burnham, elected in May 2017.
The Labour mayor claimed many factors behind the rise, including cuts to mental health services and benefits changes, were "outside of his control".
The Conservatives said tackling rough sleeping required a "concerted effort across the parties".
"We have had housing benefit taken off 18-to-21 year olds," Mr Burnham told BBC Radio Manchester. "So it's no surprise there's a lot more young people out on the streets."
In November, the Greater Manchester Mayor introduced a £1.8m plan to provide housing and addiction support for about 200 of the city's rough sleepers.
Beds are also provided for all rough sleepers in the city as soon as temperatures drop to zero.
Two new 12-bed hostels have opened in Cheetham Hill and Miles Platting, with another set for Chorlton. There are plans for three more.
"We will end rough sleeping in Manchester by 2020," Mr Burnham said. "Everyone can hold me to account on that."
But Neil Cornthwaite, manager of the Manchester-based Barnabus homeless charity, said "people were still slipping through the net".
He said: "There needs to be more beds available all year round - and not just when the weather is freezing."
He agreed that the introduction of universal credit was having a negative impact, and attacked what he described as a "shocking" lack of mental health provision.
"There are only four mental health workers for rough sleepers across the whole of Greater Manchester - they can't cope," he said.
Conservative deputy leader of Trafford council, Alex Williams, said: "What we need is a concerted effort across the parties.
"It's up to the public to judge Andy Burnham on the promises he has made."
The Greater Manchester Combined Authority estimates 200 to 400 people sleep rough in Greater Manchester each year.
Other estimates have said the true number across the city region is much higher.