Concerns over wooden balconies after Manchester flats fire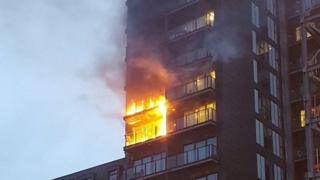 Concerns about wooden balconies will be raised with a review set up in the wake of the Grenfell Tower disaster following a fire in Manchester.
Greater Manchester Fire and Rescue Service said it had discussed the issue with the National Fire Chiefs Council (NFCC) following Saturday's blaze.
It started on the ninth floor of a 12-storey building in Joiner Street.
The NFCC said it would share experiences with the review into the building regulations.
'Concerns'
Dave Baxter, station manager at the fire service, said he hoped the issue would be fed into inquiries commissioned in the wake of Grenfell.
"We will write to the relevant inquiries expressing our concerns about what we saw on Saturday night and what we would like to see being introduced," he said.
Mr Baxter added although the fire looked "very dramatic" it was relatively small and the building "performed internally very well".
The NFCC said it would raise "the impact that balconies have on fire safety" with the review chaired by Dame Judith Hackett.
'Quite disturbing'
Pat Karney, of Manchester City Council, said it was "quite disturbing" because wooden balconies were widespread but the council was waiting for a national judgement.
He added that a meeting held between the council, the fire service and the building's owners Capital Climb following the blaze would have "national significance in terms of wood on balconies".
Bernard Priest, deputy leader of Manchester City Council, added that although there were lessons to be learned "there should be no cause for undue alarm".
An interim report published last month by Dame Judith Hackitt made a number of recommendations following the Grenfell Tower fire in which more than 70 people died.
A final report will be released in the spring.