Andy Burnham wants simple 'London-style' bus system in Greater Manchester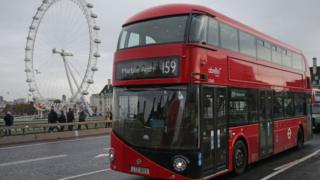 Greater Manchester should have a more simple, London-style, bus system within three years, Mayor Andy Burnham said.
He has promised to re-regulate bus services so that one organisation will oversee all routes and operators.
Passengers currently use buses run by more than 30 different bus companies with 100 different ticket options.
Regulation could mean set fares, the introduction of Oyster-style payment cards which allow travel on buses and trains, and more consistent branding.
"I get more complaints about the buses than anything else," Mr Burnham told BBC Radio Manchester.
"Yes, we will be moving ahead with the powers we have with plans to re-regulate the buses.
"We won't be putting the buses in public hands as the government has ruled that out. However we can have a regulated system like London.
"Their system light years ahead of ours."
Criticising the current situation in Greater Manchester, Mr Burnham said: "We are still living in a system that Margaret Thatcher gave us which is a free-for-all where bus companies can do what they like."
"We are going to have the same here (as in London). But it is going to be two or three years away - it is very complicated."
Mr Burnham said he will further outline his plans in a speech next week.
An estimated 210 million passenger bus journeys take place across Greater Manchester every year, accounting for 79% of all public transport journeys in the region.
However many busy routes see competing bus companies offering different fares.
Simple ticketing and fares
Transport for Greater Manchester would be charged with implementing any of the mayor's plans.
A spokesman said: "Greater Manchester needs a joined-up transport network, with simple fares and ticketing, that puts the passenger first and guarantees the best value ticket for their journey.
"It should be modern, accessible, and everyone should be able to use it.
"This can only be fully achieved through a change to the current bus system."
The Bus Services Bill, passed in April, will allow transport authorities to introduce franchising and new partnership arrangements and to offer multi-operator ticketing services.