Manchester Arena attack: Government to pay 'majority' of costs, says May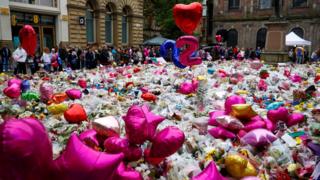 Manchester is expected to be reimbursed by the government for most of the costs associated with responding to May's terror attack, the prime minister said.
The council wants more than £17m for what it and the emergency services spent dealing with the 22 May bombing.
Details of how the money will be paid out will be provided "by the end of next week", Theresa May added.
During Prime Minister's Questions, she told MPs she expected the "majority of funds will be made available" soon.
Twenty-two people were killed and 512 injured in the suicide bombing at Manchester Arena on 22 May.
The inquests into their deaths, which opened and adjourned in June, heard 220 people required hospital treatment in the aftermath.
Manchester City Council Leader Sir Richard Leese welcomed her "encouraging" statement.
Manchester Central MP Lucy Powell asked her for a "clear and categoric commitment" that the money "will be reimbursed at the earliest opportunity".
The prime minister said the government would be "responding in full by the end of next week", but to "expect that response to confirm that the majority of funds will be made available".
Sir Richard said supporting those affected by the attack "had a considerable financial impact on public services in the city, which the government have promised to help with".
"The prime minister's latest comments about providing this funding are encouraging and we keenly await the details," he added.