Selfridges mistakes Manchester bee for wasp in motif mix-up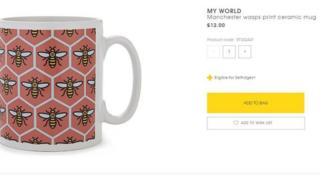 Selfridges has apologised for describing Manchester's famous worker bee emblem as a wasp on its merchandise.
The corporate gaffe was discovered on a ceramic mug being sold on the store's website.
The company said there was a copy error online which had now been corrected.
The bee motif symbolised the city's solidarity after the Manchester Arena bomb attack in May when hundreds of people got bee tattoos.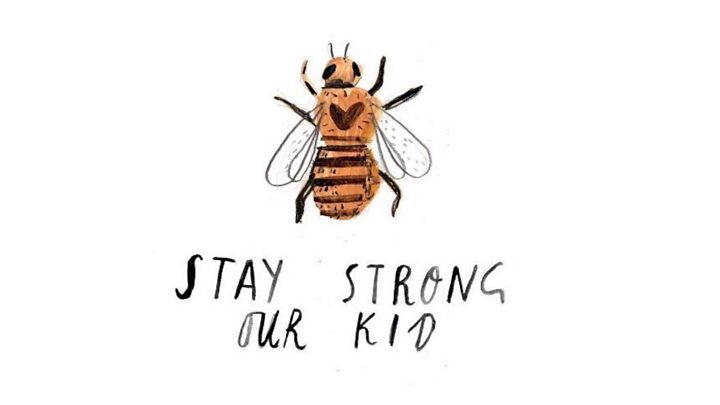 Manchester City and Manchester United players wore a bee badge on their shirts when they played a fund-raising derby for the bomb victims in the US in July.
A company spokeswoman said: "There was a copy edit error when uploading the product to our website, which has now been rectified, and will be visible when the website reloads overnight.
"We'd like to thank BBC Manchester for bringing this to our attention and would like to apologise for any offence caused."
But the blunder has already drawn a scathing reaction from Mancunians on social media.
"Oh dear obviously some bod in London didn't check their facts," said Paula Collins.
"The only mugs are the ones who will buy this don't get stung by them cashing in on MCR," added Bill Shepherd.
The bee has been incorporated into a host of logos in the city from renowned brewers Boddingtons to the Roman Catholic Diocese of Salford.
---
Manchester's bee
The bee has been an emblem of Manchester since the Victorian era
Several theories exist about how it became the city's symbol, but a popular one suggests a German architect described Manchester, then rich with mills and factories, as a "hive of activity"
It is a worker bee, symbolising the industry of the city and its people, and was adopted into Manchester's coat of arms in 1842
The bee can be found around the city, including on bollards and in the mosaic tiles of the Town Hall
---