'Manchester Gas Man' spared jail over nitrous oxide sales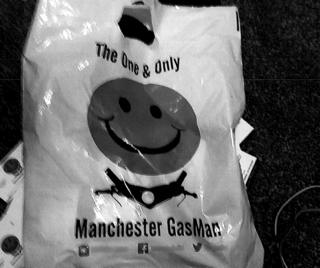 A drug dealer who was caught with over 41,000 nitrous oxide canisters he was selling under the name of "Manchester Gas Man" has been spared jail.
A police search of Zubair Iftikhar's Fallowfield home uncovered the gas, along with business cards, hoodies and bags adorned with his trading name.
The 31-year-old admitted two counts of possession with intent to supply.
He was sentenced to 10 months in prison, suspended for a year at Manchester Crown Court.
The Crown Prosecution Service (CPS) said police found 41,400 nitrous oxide canisters while searching Iftikhar's home on Langley Road on 26 January.
They then found a further 6,500 canisters in his car on 10 February.
Nitrous oxide, which is also known as laughing gas, was banned under Psychoactive Substances Act 2016.
The CPS's Brett Gerrity said Iftikhar had sold the gas to students and continued "dealing in large amounts from his home" after the law change.
Iftikhar was also given a community order to do 220 hours of unpaid work.