Manchester attack: Government criticised over reimbursement delays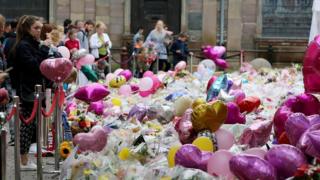 The government's "delay" in paying "over £17m" in extra costs after the Manchester terror attack has been criticised by the city's officials.
Financial support was promised after the suicide bombing at the Manchester Arena, which killed 22 people on 22 May, the city's council said.
Councillor Pat Karney said social care funds had been used to make up for £9m spent by the council and health bodies.
A government spokesman said it was "considering requests very carefully".
Councillor Sue Murphy, deputy leader of Manchester City Council, said: "We would certainly be grateful for more support than we have had so far, and are increasingly concerned about the delay, but discussions with government are ongoing."
Speaking at a council meeting on Thursday, Councillor John Flanagan, executive member for finance, said: "The cost implications for ourselves, the police and health are over £17m."
He added: "The most important thing is that we are there for the families and the victims of this terror attack and where the government fails, Manchester will step into the gap.
"But I find it very difficult that we now have a government that doesn't carry out its primary role, which is to look after its citizens at their time of need despite their offers of help."
He said council leader Sir Richard Leese had written to the prime minister, adding: "She has promised to look into it and nothing has happened.
"The Chancellor of the Exchequer has been asked to help and nothing has happened - I'm at a bit of a loss."
Councillor Pat Karney said: "The prime minister and her ministers said they would offer full support to Manchester and, quite rightly, that's what governments have to do when you have terrorist attacks and emergencies.
"It's £9m for the council and health service and that money has been taken from adult social care, children's and homelessness - so we have to make up that shortfall."
A government spokesman said: "Where pressures have arisen - both in the immediate aftermath, and as services continue to support the community, we are considering requests very carefully.
"We are absolutely committed to working with the relevant organisations to ensure that they have effective plans in place to support the people of Manchester."