Manchester attack: 'Treatment delayed' for bomb victims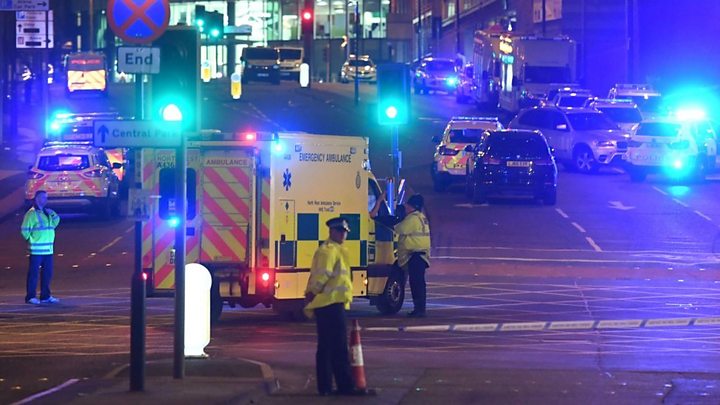 Many of the most seriously injured victims of the Manchester Arena attack did not get expert medical help for more than an hour, witnesses have said.
Twenty-two people were killed and 512 injured by suicide bomber Salman Abedi at an Ariana Grande concert on 22 May.
Only three paramedics ever entered the cordoned-off foyer area at the centre of the blast, in line with the major incident plan, the BBC has been told.
Injured people inside were later taken to medical staff gathered outside by members of the public and police.
Phil and Kim Dick, from Bradford, were in the arena foyer at the time of the explosion, waiting for their daughter and granddaughter to come out of the concert.
They told BBC Inside Out a young victim with "horrific" injuries collapsed in front of them.
Mrs Dick said she sat with the girl, who survived, for more than an hour.
"She could hardly walk," she said. "She was stumbling, bleeding from her arm and her mouth and her leg, and her hair was burnt.
"I just kept shouting: 'We need paramedics now'. And they [armed police] just said: 'We're just making sure there are no more bombs'."
"There was just too much for just three paramedics to deal with," Mr Dick added.
"The longer it went on the more silent it became. It was really eerie and people who I had seen a little earlier, who were severely injured, were now dead."
Mr Dick said he believed a decision was made "about an hour and 10 minutes after the explosion that the medical staff weren't coming up to the foyer but were going to evacuate all the casualties".
---
Analysis: By Nicola Addyman, BBC Inside Out
While we have been able to piece together much of what happened on that terrible night, several key questions remain unanswered:
Why did only three paramedics make it into the foyer to treat the seriously injured? One of them has told the BBC that police were worried about a second bomb. Did police prevent more from entering this so-called "hot zone"? Or was this call made by ambulance chiefs?
Similarly, why did it take an hour and 47 minutes after the explosion for fire officers to deploy at all? It's thought fire chiefs made that call.
Ultimately those in the unenviable position of being in command on the night had a terrible dilemma on their hands. Did they deploy their staff - thereby potentially exposing them to the risk of being caught up in a second blast or facing marauding terrorists - to try to save the critically injured?
---
Eight days after the bomb, Chief Constable Ian Hopkins told BBC Radio Manchester his force had been on the scene "within seconds" and one of its roles had been to co-ordinate the emergency services' response.
He said his force had contacted North West Ambulance Service (NWAS) within three minutes of the incident being declared and the ambulance service had followed its major incident plan.
Both the fire and ambulance services initially went to a rendezvous point as per standard practice, he said.
Mr Hopkins added: "The ambulance service were called forward and, at this stage, I am unsure as to why the fire service were delayed so long."
The BBC has ascertained one paramedic was already inside the inner cordon by the time it was established, and that two specially trained paramedics joined him.
Thereafter no other paramedics entered the foyer, which was known as the "hot zone".
In a statement, NWAS said that despite the "clear risk", the decision was made to allow three staff into the foyer.
"Their job was to triage the injured and work with police to move people to a place close by where they could be treated safely - and where 25 paramedics were waiting, in accordance with our major incident plan.
"Within an hour all critical patients had been moved and were being treated by 50 paramedics. Some people had already been taken to hospital. Within four hours, all the injured that required hospital care had been transferred.
"This is the clinical model used in all major incidents.
"The Kerslake inquiry will fully review the processes that we used and we welcome any findings or lessons learnt that may be provided as a result but we are confident in our response which followed implementation of our major incident plan."
In total, 56 ambulances and seven rapid response vehicles were deployed to the incident, NWAS added.
Abedi detonated his home-made device, packed full of nuts and bolts so as to maximise casualties, at 22:31 BST.
BBC Inside Out has also learned that Greater Manchester Fire and Rescue Service (GMFRS) did not deploy crews to the arena until one hour and 47 minutes later, at 00:18.
A serving GMFRS firefighter, who wants to remain anonymous, told the BBC that the paramedics were asking where the fire service was.
"People were dying, why weren't we there? We were just helpless.
"I don't want the public to think that we didn't want to go or were scared to go, we were held back by the senior management.
"There were homeless people helping, members of the public helping. I'm a paid public servant and I wanted to help, I just wasn't allowed to help.
"The hairs are standing up on the back of my neck because it's embarrassing that we weren't allowed to go."
Another firefighter, who also did not want to be named, told the BBC: "There were rumours that some people wanted to self-deploy because they were watching ambulances drive past their fire station and they were wondering why they hadn't been tasked to the event."
GMFRS said it had conducted a "debrief" of its response to the deadliest terror attack in the UK since the bombing of the London transport network on 7 July 2005.
But it said it would be inappropriate to comment further, given the fact it was co-operating with an ongoing review by Lord Kerslake into the Manchester attack, commissioned by Greater Manchester Mayor Andy Burnham.
The BBC asked all 49 fire brigades in the UK whether their firefighters were covered by their service's insurance in the event of injury or death while attending a terrorist attack.
Merseyside was the only fire service to confirm explicitly it has insurance in place for its officers to respond to terrorist attacks.
In a statement on Sunday, GMFRS said its employers' liability insurance covers firefighters attending such incidents.
Lord Kerslake's interim report is due to be published in early 2018.
The BBC has been told the deadline for submissions to the inquiry is to be extended to 24 November.
You can find out more on this story by watching BBC Inside Out in the North West and Yorkshire & Lincolnshire regions of England from 19:30 GMT on Monday 6 November.