Rochdale inquiry: Council leader denies seeing Knowl View abuse report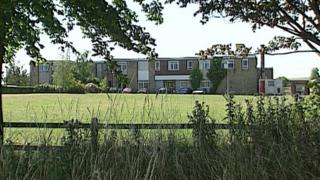 The leader of Rochdale Council has accused a colleague of lying about claims he knew of sexual abuse at a residential school in the 90s.
Richard Farnell, who was leader between 1986 and 1992, told the Independent Inquiry into Child Sexual Abuse he was "unaware" of problems at Knowl View.
Brian Altman QC questioned repeatedly how Mr Farnell could be "completely oblivious" to the concerns.
The hearings are examining alleged abuse of boys in Rochdale.
'Utterly exposed'
Mr Farnell, who regained the position of Labour council leader in 2014, told the inquiry he was never informed of the scandal during his first stint in office.
However, the inquiry panel was shown a typed note from a fellow councillor Peter Joinson in 2014 which stated that Mr Farnell had seen a 1992 report by a sexual health worker.
Mr Farnell told the inquiry Mr Joinson was lying and the note was a fabrication.
He accused him of making it up for political reasons during a battle for the leadership of the local party in 2014.
The inquiry heard that a paedophile had been admitted to Knowl View in September 1990, where he had sexually abused at least one boy.
The council's then education chairwoman, Mary Moffat, who has since died, knew about the incident but Mr Farnell said he was not told about it.
Mr Altman suggested the idea he had not been informed was "ridiculous".
"So she left you… completely and utterly exposed as Labour leader of the council to scandal at Knowl View. Is that what you are telling us?"
Mr Farnell said Ms Moffat was a "formidable" politician who "got on with the job" and was "confident in her own abilities to deal with issues that were put before her".
The inquiry heard that by April 1991, the council was also dealing with the sexual exploitation of Knowl View boys at the town's public toilets in Smith Street as well as an "epidemic" of "peer on peer" abuse at the school.
A Rochdale health authority worker's report, submitted on 20 March that year, detailed claims that boys as young as eight were being targeted by men from as far afield as Sheffield.
'Public scandal'
It said most people would be "horrified" by the allegations, which had the potential to become a "public scandal".
Mr Altman asked the council leader: "You knew absolutely nothing at that time of the scandalous nature of what was going on in Knowl View?"
Mr Farnell said: "In order for me to have known I would have had to be told...The director of education, the director of social services, the chief executive have all said they never brought this to my attention."
Another report on Knowl View, was submitted in February 1992, while Mr Farnell was still in office but the politician denied he had been shown it at the time.
He told the inquiry he had only heard of the abuse allegations when they were raised in parliament by the then Rochdale MP Simon Danczuk in 2012.
Closing several hours of tense questioning, Mr Altman said: "Several boys went through that school and their lives were blighted by what happened to them.
"Presumably you're prepared to accept responsibility for the failings that happened at Knowl View?"
Mr Farnell said he was not, adding: "I bitterly regret that the senior officers of the council never once approached me to brief me about those matters. They had every opportunity to do so.
"The key people...with the information, the people with the professional responsibility to inform me about those matters, failed to do so and that's a matter of record," he said.
The inquiry continues.