Teacher helped Cyril Smith sexually assault boy, 12, inquiry told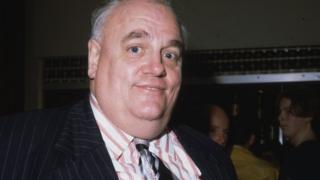 A paedophile teacher helped Cyril Smith sexually assault a then 12-year-old boy, an inquiry heard.
David Higgins, a teacher who was later convicted of child sexual abuse, held the alleged victim down while he was molested by Smith.
Details of the claim were read to the Independent Inquiry into Child Sexual Abuse.
The inquiry is examining abuse of young boys in Rochdale care institutions including Knowl View school.
Smith was a governor of the school twice - from when it opened in 1969 until 1972 and in the year it ceased operating, in 1994.
'They were laughing'
During the school's "official opening day" the boy was put on "car park duty" and Higgins scolded him for directing a particular car near other cars, the inquiry heard.
"Higgins said to me 'do you know who he is?'" and let it park closer to the school, the man claimed.
"A huge man then got out of the car. I was told he was Cyril Smith."
After the ceremony, the boy was then instructed to go to Higgins' flat and Smith was waiting there.
He was told he would be "punished" for getting Smith to park in the wrong place, the inquiry heard.
The man said he protested, but Higgins "pushed [me] forward over the back of a chair or sofa".
"I could feel that Cyril Smith was behind me. I could hear that Cyril Smith was undoing his clothes."
The man alleges he then felt "another hand reach around and grab my genitals."
"It could only have been Cyril Smith as Higgins was using one hand to hold my head down and was pulling my trousers down with the other," he said.
The statement continued: "I struggled and somehow I managed to break loose and I left. As I left, they were laughing."
'Reputation of school'
The man claimed he later told head teacher John Turner about the incident but he "called me a liar" and "told me that I wouldn't be believed".
Mr Turner was "somebody I trusted" but "I saw a different side to him" after the complaint, the man claimed.
He alleged he "gave me a slap across the head" and that "his eyes were bulging with anger."
He told me that I had to "consider the reputation of the school", the alleged victim said.
The man said he was sexually assaulted by Higgins on other occasions and he also saw the teacher abusing another pupil.
Higgins was jailed in 2002 after admitting indecently assaulting boys at Knowl View school and also gross indecency.
He is currently serving a 14 year sentence for serious sexual offences after he was convicted at Leeds Crown Court in 2014.
The inquiry continues.