Arriva North West bus drivers set to strike over 'pitiful' pay offer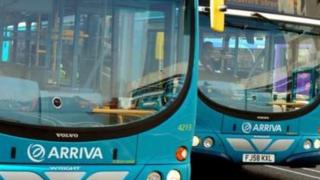 More than 2,000 Arriva North West bus drivers and engineering staff are to stage a series of one-day strikes over "pitiful pay offers", a union has said.
Members of Unite will walk out on 19, 23 and 30 October, affecting bus services throughout the region.
Depots at Birkenhead, Bolton, Bootle, Macclesfield, Runcorn, St Helens, Speke, Southport, Winsford and Wythenshawe will be affected.
Arriva said its pay offer was "fair" and urged the union to back down.
Unite said it wants an "equitable pay award" across all depots and for Arriva to tackle wage inequalities of up to £1.73 an hour between bases.
'Disappointing'
Under Arriva's latest pay offer those disparities could rise to £2 an hour, the union said.
Unite regional officer Neil Clarke said: "All we are seeking is a fair and reasonable pay award against a backdrop of spiralling inflation and soaring living costs.
"Our members are fed up with pitiful pay offers and Arriva's 'pick and mix' approach to wages where some depots get a pay rise and others don't.
"This has resulted in wage inequality across a number of depots and is in stark contrast to the company's claim to be an industry leader in the treatment of its workforce."
Phil Stone, regional managing director of Arriva, said it was "disappointing" that the union had balloted for strike action over pay after the company had "tabled a fair pay deal for our staff".
He said the pay offer follows "year-on-year competitive pay increases, even at a time when other companies were freezing pay", adding that the company were "committed" to reaching "a mutually acceptable outcome".