Coach Trip bungee jumper admits insurance fraud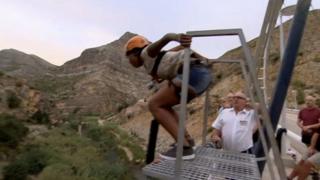 A woman who claimed to insurers that she could barely walk but was seen bungee jumping on Channel 4's Coach Trip has admitted fraud.
Noreen Murray tried to claim almost £19,000 in 2014 for a work-related back injury, insurers Aviva said.
Murray, of Salford, said it left her only able to stand for a short time, but she joined the TV show and took part in a bungee jump within a month.
The 31-year-old admitted fraud at Manchester Crown Court.
She pleaded guilty to fraud by false representation and was given a 10-month jail sentence, suspended for two years.
'Pretty rare'
Murray, of Nile Avenue, claimed she had been injured while moving laundry bags on 19 October 2013, saying she was bedbound for two days, an Aviva spokesman said.
As a result of the injury, she said she could only stand or walk for a maximum of 30 minutes.
However, the spokesman said there was no report of an injury either on the day in her employer's log or in subsequent emails with her then-employer.
Murray quit work on 21 October 2013 before joining the reality show in Valencia and being filmed bungee jumping 19 days after she claimed she was injured.
In the episode, she said she was "dead excited" by the jump, adding: "It's the best thing I've ever done."
The following February, she filed her claim to cover benefit payments, loss of earnings and general damages.
Aviva declined the claim and referred her case to the City of London Police's insurance fraud enforcement department.
Richard Hiscocks, Aviva's director of casualty claims, said the investigation was under way before her appearance on Coach Trip was shown, but added it was "pretty rare" for a fraudulent claimant to go "out of their way to help us by bungee jumping on national TV".