Manchester homeless man's shock at Spice use in city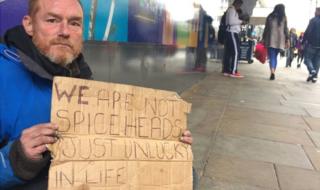 A homeless man returning to Manchester has told how rough sleepers he knows have been turned into "skeletons" by the drug Spice.
In the space of a year, William Nicholson said he has noticed a marked rise in use of the formerly legal drug.
Mr Nicholson, who spent six months in Manchester in 2016 before returning this year, fears the city could become "the most unsafe place in Britain".
His comments come following a spike in hospitalisations relating to the drug.
Earlier this year, homeless charity Lifeshare claimed 95% of Manchester's homeless community were taking the form of synthetic cannabis, which appears to freeze those who smoke it - leaving them in a zombie-like state.
Some samples of the drug in Manchester were "10 times more potent than normal", an academic has said.
Mr Nicholson said he has been "shocked and afraid" by how many of his friends have begun using the drug.
He told BBC Radio Manchester: "It's on to the homeless and it's gripped 99.9% of them. It'll start hitting the suburbs and before you know it the kids are going to be on it."
The Scot, who returned to Manchester with his terminally-ill wife, said: "It's all I've seen, people I met last year, 15 or 16 stone, now seven or eight stone.
"They've turned into skeletons. Dancing in the streets in the rain, just a pair of shorts on, shadow boxing. Just complete zombies."
Greater Manchester Police (GMP) has it was "absolutely committed" to tackling spice use and dealing in Manchester city centre and has increased the number of specially-trained officers dealing with the issue.
Insp Phil Spurgeon from GMP said: "Since January we have dealt with 92 crimes for possessing Spice, and have made 11 arrests as a result."
The force has also been working with Manchester City Council's adults and children's services, rough sleeper and outreach teams, local charities, as well as North West Ambulance Service and the NHS.
'Real epidemic'
Greater Manchester Mayor Andy Burnham has also called for more public funding to tackle the problem.
However, Mr Nicholson, who carries a sign reading, "We are not Spice heads, just unlucky in life", said people should not assume all rough sleepers are hooked.
"Everybody's tarring us with the same brush. I'm not a Spice head. Why would I want that in my life, to be in that state?" he said.
"In a year's time you're going to read in the headlines that Manchester is probably the unsafest place to go in Britain.
"It's going to take over your city. You've got a real epidemic on your hands here.
"Somebody has got to put their hand in their pocket and say, if we don't stop it now we're going to regret it for years to come."