Councils seek legal restriction over Ian Brady remains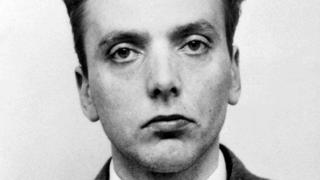 Two councils have launched a legal bid to restrict the disposal of Moors Murderer Ian Brady's remains.
The BBC understands this will be the basis of a High Court application on Friday by Oldham and Tameside councils in Greater Manchester.
Brady, who tortured and killed five children with lover Myra Hindley, buried four of his victims on Saddleworth Moor.
He died aged 79 of obstructive pulmonary disease on 16 May 2017.
Brady had been held at Ashworth Hospital, a psychiatric hospital in Maghull, Merseyside since 1985.
In May, the coroner at his inquest said he would not release Brady's body unless he was given assurances about where his remains would be disposed.
At the time, Christopher Sumner said he did not have the legal power to make such a request but believed it was the "right and proper moral judgement".
A reporting restriction order was made on Monday in the Chancery Division of the High Court after the councils gave notice of their legal application.
The order bans the publishing or broadcasting of the location of Brady's remains and any information as to "the intended arrangements for their disposal".
Brady was jailed in 1966 for the killing of John Kilbride, aged 12, Lesley Ann Downey, 10, and Edward Evans, 17.