New road laid around parked car in Rusholme, Manchester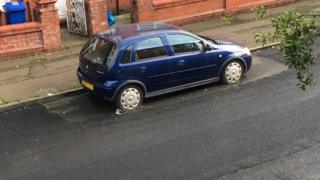 Council workers re-surfacing a road in Manchester went around a parked car leaving a chunk of the road unfinished.
Bemused residents of Thornton Road in Rusholme were left scratching their heads after the repairs following roadworks on Tuesday.
Resident Sarah Jolliffe said the road "looks worse than it did originally", adding "it was fine and now there's this giant pothole."
The council said it was planning to return to the street to fix the gap.
Residents say the car, which has got two flat tyres, has been there for about six months.
'Will return'
Councillor Angeliki Stogia said all residents were informed of the work and asked not to park on the street.
She added: "Where a car is left in place despite this notice, our team knock on all doors on the street, to look for the owner and ask them to move it. In this case, the owner could not be contacted.
"However, applying the microasphalt treatment is a quick and simple process and our team will return to complete the necessary work in the near future.
"This will have no effect on the overall finish or integrity of the treatment."
The council said the car could not just be removed as it has insurance and an MOT.