Salford double killer given whole-life jail term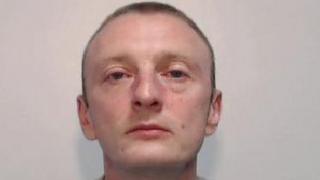 A convicted killer who murdered another man in a "monstrous attack" nine months after being released on licence has been given a whole-life sentence.
Alan Maidment, 40, of Salford, stabbed Thomas Jones 32 times at his flat in Swinton after his ex-girlfriend told him Mr Jones had attacked her, Greater Manchester Police said.
He then set fire to the body to conceal the crime on 21 March.
Maidment denied murder, but was found guilty at Manchester Crown Court.
He carried out the attack on Mr Jones, 47, with whom who his ex-partner had lodged, as Mr Jones opened the door to his flat on Berry Street.
He then dragged the body to the living room, placed a number of items on top of it and set them alight.
Maidment later sat on a bench opposite the flat and watched as fire crews tackled the blaze.
'Particularly dangerous'
Ten days later, Maidment carried out five knifepoint robberies within a few minutes after taking cocaine, ecstasy and cannabis, police said.
He then went to a McDonalds in Chadderton, again armed with a knife, and told staff to contact police because he had committed a murder.
Duncan Thorpe from Greater Manchester Police said: "In an appalling attempt to conceal his monstrous attack, Maidment carelessly put further lives in danger by starting a fire at communal flats.
"Alan Maidment is a particularly dangerous individual who was only released from prison on life licence in June 2016, after killing another man.
"He will now spend the rest of his life behind bars to contemplate his actions."
Maidment, of Ludlow Avenue, was also handed a six-year prison sentence after admitting to the robberies and a further two years for possession of a bladed weapon, to be served concurrently.