'Simple stone' tribute to Sgt Joseph Lister VC laid in Salford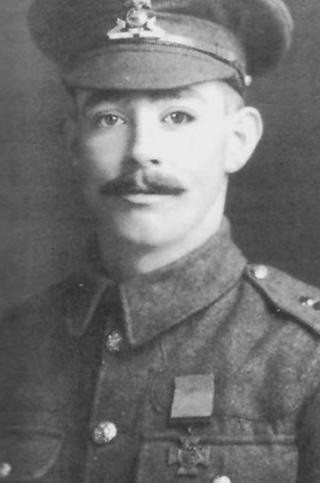 A "simple paving stone" for a World War One soldier, whose "incredible" bravery saw him awarded the Victoria Cross, has been laid in the city of his birth.
Sgt Joseph Lister was decorated for his actions in Belgium during the Battle of Passchendaele in 1917, when he captured two machine gun posts and 100 troops.
The stone is the third of four tributes being paid to the Lancashire Fusilier, Salford City Council said.
A ceremony to unveil the stone took place in Higher Broughton.
Born in Salford in 1886, Sgt Lister enlisted in 1915 and served with the 1st Lancashire Fusiliers.
On 9 October 1917, his battalion came under heavy fire.
According to his VC citation in the London Gazette, the 30-year-old raced to attack a machine gun position and a guard post alone, shooting three men and forcing the remaining gunners to surrender.
With the guns silenced, about 100 more troops appeared from shell holes and also surrendered.
The paper called his actions the "most conspicuous bravery in attack", which "enabled our line to advance with hardly a check".
The unveiling of the stone on Rigby Street was attended by his great-granddaughter and included a parade by the Lancashire Fusiliers.
Two other tributes to Sgt Lister - a memorial placed near the site of his actions in Belgium and a blue plaque on his former home in Reddish, Stockport - have recently been unveiled.
A fourth, another paving stone, is due to be unveiled in Reddish in the coming months.