Salford care workers given 10.7% pay rise, city council announces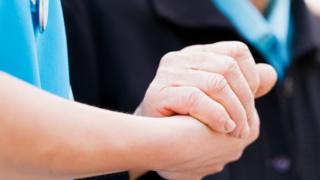 Care workers in Salford are to receive a pay rise of nearly 11%, the city council has announced.
Workers at five agencies contracted to provide social care in the city will in future be paid £8.30 an hour, Salford City Council said.
The pay increase will cost £725,000 over the next two years and be paid for by a government grant.
Mayor Paul Dennett said the move will help the council meet the "challenge" of recruiting and retaining good staff.
The council said 300 workers will now earn up to £17,200 per year and staff will see the increase in October's wages.
Dr Tom Tasker, chairman of the NHS Salford Clinical Commissioning Group, said the pay rise will ensure vunerable people get the "high quality and continuous care they deserve".
Unison branch secretary Steve North said the pay rise represented "a step in the right direction".
The National Minimum Wage for people over the age of 25 is £7.50.