Giorgio Roncari Salford murder: Vincento Tavano jailed for life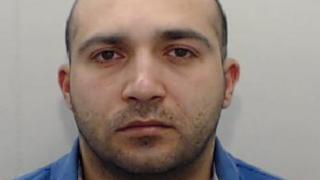 A debtor who confronted his lender before grabbing his throat and choking him to death has been jailed for life.
Giorgio Roncari, known as Giuseppe, was found dead in his flat in Blackburn Street, Salford on 17 April.
After killing the 61-year-old, Vincento Tavano, of Park Lane in Poynton, Cheshire stole his car and bank cards before using them in shops and online.
Tavano, 33, who admitted murder at an earlier hearing at Manchester Crown Court, will serve at least 17 years.
Tavano went to Mr Roncari's flat on 15 April and attacked him when challenged over his debt, Greater Manchester Police said.
Following the discovery of Mr Roncari's body two days later, detectives discovered his Jaguar was missing.
The car was found on 20 April in Chester Street, Manchester. CCTV footage showed Tavano had parked there.
'Immoral and opportunist'
Around the same time, credit cards belonging to Mr Roncari were used to make online purchases, some of which were collected in stores in Manchester.
These items were collected by Tavano who was then tracked by CCTV to another store where a further transaction took place using a stolen bank card.
Tavano was arrested on suspicion of murder and, despite answering "no comment" to questions, later fully admitted his involvement.
Senior Investigating Officer Duncan Thorpe said: "Tavano's anger fuelled his actions that night, taking a man's life over a dispute.
"The immoral and opportunist behaviour he displayed after he murdered a man proves there is no place better for him than behind bars.
"Giorgio was a well-liked and popular man in Salford and will be terribly missed."