University of Manchester academic staff to go on strike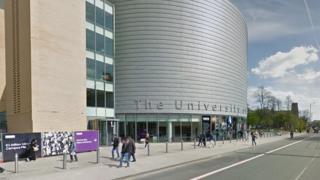 Academic staff at the University of Manchester have voted to go on strike in a dispute over potential job losses.
Members of the University and College Union (UCU) will walk out on 23 and 24 October.
The UCU said there was still the opportunity to avoid a strike and urged the university to take compulsory redundancies "off the table".
The university said it was "disappointed" in the vote and it was "mitigating the need for redundancy".
The strike ballot was held as part of a row over plans which the union says will lead to 140 academic redundancies.
'Lack rationale'
As well as the 48-hour strike, staff will begin working to rule from 25 October.
The UCU said the redundancy proposals "lack a convincing rationale".
"Staff are not confident that the process will be fairly and consistently implemented," said regional officer Martyn Moss.
The university said it had undertaken an "extensive" consultation with all three of its recognised trade unions, including the UCU.
"Whilst we hope that staff will decide to continue to work normally, every effort will be made to ensure that there will be no significant disruption to operations at the University and particularly to our students should there be any industrial action," a spokesman for the university said.
"We also remain committed to continue our dialogue with the trade unions and staff on these plans as they are implemented."
More than 12,000 people work at the university, including almost 7,000 academic and research staff.