Pig's head thrown at Oldham home an 'Islamic hate crime'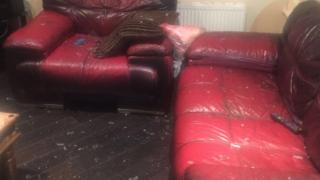 A pig's head and brick were thrown through the living room window of a family home in an Islamic hate crime, police have said.
The animal head was thrown after a brick smashed the window of a house on Chapel Road in Oldham, Greater Manchester at 22:00 BST on Saturday.
Ajaz Mahmood said his six-year-old daughter and son, 14, who were in the room at the time were "traumatised".
Police are looking for a man aged about 18 travelling in a Vauxhall Corsa.
Police said the vehicle, with three men inside, pulled up outside the house.
One of the men got out of the back seat and threw the brick and the pig's head through the window, then got back into the car which drove off.
He was described by police as wearing a black hoodie pulled up over his head.
'Kids screaming'
Khatija Begum said she was in the kitchen while her niece was asleep and her nephew was playing on his Playstation in the living room.
She "heard a big bang", ran into the room and saw a stone had come through the window then the pig's head followed.
"The kids were screaming; glass was everywhere."
Ms Begum said she made numerous calls begging the police to come but claimed officers did not turn up for three hours.
"I was crying on the phone as I didn't know if they would come back. They said they were busy and it wasn't a priority."
Greater Manchester Police said in a statement: "Officers attended at the earliest opportunity... due to a number of ongoing incidents."
Det Ch Insp Chris Downey said: "This was a disgusting act against an innocent family who have lived in this community for years and were enjoying being at home together on a quiet Saturday night.
"We are treating this appalling incident as a hate crime and are doing everything we can to find those responsible.
"No-one should be made to feel scared in their own home."