Paddy McGuinness speeding case dismissed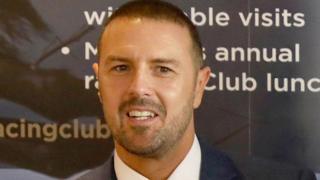 TV personality Paddy McGuinness has avoided being prosecuted over a speeding offence which could have seen him banned from driving.
He had previously admitted failing to give information relating to the identification of a driver when caught speeding in Manchester last year.
He was given six penalty points, triggering a driving ban as he already had six points on his licence.
Lawyer Nick Freeman advised him to go to trial and the case was thrown out.
Moved house
The earlier hearing was adjourned for Manchester magistrates to consider the length of any ban, and Mr McGuinness, of Prestbury, Cheshire, contacted "celebrity lawyer" Mr Freeman, sometimes nicknamed Mr Loophole.
The comedian's Land Rover was caught by a speed camera driving at 53mph in a 40mph zone in Chorlton, Manchester, on 8 August 2016.
The court heard Mr McGuinness had moved house three times in the last two years and although he was the registered keeper of the vehicle, he had not received a notice of intended prosecution or a reminder.
Mr Freeman said at the time of the offence, Mr McGuinness had been having work done on his car so asked for the speed camera photograph to be sent to him, but he never received the photograph.
Mr Freeman told magistrates the prosecution had failed to provide any documents or evidence to the defence, and had failed in its legal duties.
The court heard that Greater Manchester Police took the lead in the prosecution and had not provided the documents, and the court dismissed the case.